On January 24, 2011 this web site has been extensively vandalized by Ukrainian hackers on behalf of those smuggling stolen WAR BOOTY to Vienna for sale on the Black Market.
A Museum director in Lviv/Ukraine is being implicated while matters are now in hands of Governments and Law Enforcement concerned.
In time, the WARTBURG TREASURE shall be returned to its rightful place in Eisenach/Germany; yet until such time I shall hold a special virgil in regards to Safety & Security of this site.
Mahalo...
Karl of Germany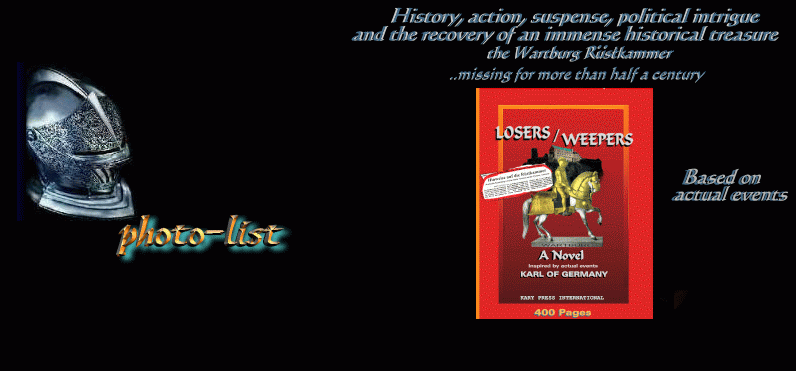 The following list comprises a photographic selection of Karl's past works..
To view regular size pictures, please click thumbnails
Um die Photos in greasserer Ausfuehrung zu sehen, bitte auf die kleinen photos CLICKEN
Zum ansehen der Fotos auf normaler Grösse, bitte auf die kleinen Bilder clicken
Jan.2003 All photos on this page have suffered from constant compression and will be replaced with GIF files shortly.








The MISSA FUMIDUS armor.

The 'FUMIDUS' armor is named after the credo of the Moric family of Martin/Republic of Slovakia, and is a completely new, panoply design.
This Harnisch is somewhat heavier compared to the average parade armor intended for ostentatious purposes only. It was custom crafted for Slovakia businessman Peter Moric, to be sported at Strecno Castle during nuptials to his bride Lydia.
Decorated with etched designs inspired by an armor of German Archbishop 'FECHENBACH', original drawings have only been marginally incorporated in the overall etched designs.





This style of Half Armor for the foot tournament was inspired by 12 original armors ordered as a christmas present by Sophie, princess of Brandenburg and the wife of Christian I, Elector of Saxony, from Anton Pfeffenhäuser of Augsburg in 1591. Unlike the originals..though, this harness shows raised etchings, which then were gilded and burnished to show a gold design with steel colored trim on a black background. Its current owner preferred to have his own family crest incorporated into a design gracing the breastplate, as well as the helmet.

The same harness with its etched designs shown from a rear-view, clearly depicting the family crest displayed on the helmet.





This helmet is part of a panolpy suit of parade armor, work currently in progress. Destined for the Republic of Slovakia, where it will be sported during nuptuals at Strecno Castle.
Watch for more to come shortly.......

A detailed view of the previously mentioned helmet with etching, also showing a hand crafted, etched buckle.





Karl at work, finishing a helmet for Gold's Gym in Madison, WI.

Detailed close-up view of a breastplate depicting etched, burnished art and family crest of its current owner.

A different section of the same harness, detailing the elbow, gauntlet and waist area with a clearer view of a hand crafted, etched buckle and leather work..

This etched morion and Half Armor for the foot tournament is displayed among tapestry, at its current owner's home (California Collection)




Side view of a 14th century style Bascinet with Klappvisier, etched brass trim -modeled on an original German made helmet, of the Collection and displayed at the new "ROYAL ARMOURIES"- in Leeds, England. (Chicago Collection)

Cavalry Armor, etched with original art showing crucifixion on a black, burnished background. Heavy roping extents across the upper front and slotted, extendable underarm pieces.(Wisconsin Collection)

A Nuremberg style black & white Landsknechts harness, depicting an etched breastplate and helmet. (Illinois Collection)

Two 18th century style Jägermeister helmets forged of copper ( but not yet chrome plated) with pikes removed. (New York Collection)

This Maximilian Harnisch with long pointed sabatons and salade, is one of my earliest designs, finished with a dark steel patina(Chicago Collection).

Karl at work, embossing a 2'x3' custom designed family crest in copper plate.

A parade armor, fully etched and gilt. The art shown can be seen on the original Archbishop "Fechenbach" Harnisch as part of the Schloss Dieburg Collection (Dieburg Palace in Dieburg-Darmstadt) Germany.The center of the breastplate shows its current owner's etched custom design, instead of the original crowned bird. Gilded, on a black background. (Wisconsin Collection).

A close-up view of a parade harness with etched art of the "Baron von Finkelstein" parade armor which is a part of the Dieburg Palace Collection. Instead of the original Medusa centering the breastplate, this harness shows the design of its current owner (The Medusa has been placed onto the backplate).. This armor is leather lined and the etchings are gilded and burnished, on a black background. (Wisconsin Collection)

A boy's tournament armor decorated in a leaf design, embossed in low relief and burnished, showing polished steel on a black background. Art after a design from an armor made by Michael Witz the Younger (1550).

Two etched parade armors in black and white (ARCHBISHOP "Fechenbach"and BARON "Von Finkelstein" (California and Texas Collections) Also shown: Etched Morion & Shield with custom art.

Close -up view of previously listed "Fechenbach" with shoulder pieces of a three tiered design.

A shield, embossed in high-relief, as well as arm pieces and gauntlet cuffs embossed in low relief, burnished on a black background.

Gauntlet in black and gold. Etched and gilt. (California Collection).

Shield, etched , burnished, on a black background. Art after an original 16th century design customized with current owner's family cres.

Two helmets. An etched morion and a spiked, close helmet for the tournament, etched embossed, with brass rivets.

A close-up of a Maximilian Harnisch with heavy roping and an etched design from a breastplate of CHARLES V.

A 2'x 3' family crest of copper. Embossed in high-relief,background is of a green patina, burnished. (Wisconsin Collection)




The same family crest, this time etched, blackened and gilded as a plaque..8.5"x6.5" for cabinet display

This youthful Parade Armor with "Baron von Finkelstein" etched design in black and gold dons the original Medusa on its breastplate. (Wisconsin Collection).

Customized black and gold, etched Parade Armor (Collection of GOLD'S GYM in Madison,WI)

Close-up of previous customized black and gold armor, etched.

A different style, customized black and gold Parade Armor, etched.

This rare tournament shield, modeled on the only one in existence and part of the "Burg Hornberg" collection (originally owned by the knight GOETZ von BERLICHINGEN), is the only one of its kind in the United States. Provenance SOTHEBY'S New York 1995

A half armor etched, in black and gold, with tournament shield. Provenance SOTHEBY'S, New York 1995

RESPLENDENC" a micro crystaline wax, originally developed in Europe especially to protect armor. Sole marketing agent in America: Karl of Germany Enterprises.
Don't forget to bookmark this site

---
All images are the copyright of Karl Lechten and Karlofgermany.com, unauthorized use of these images is strictly prohibited without express written permission of Karl Lechten, or a representative of KarlofGermany.com..